Clear Vision Complex Chews
$24.95
Intense Vision Support: our dog eye supplement supports the overall health of your dog, helps lower the chances of potential vision problems, and assists in dealing with any eye problems.
Eye Moisture: dry eyes can have a huge impact on vision clarity. Our dog eye vitamins help promote healthy retinal cells & support increasing tear fluid production for dry eyes.
Skin & Immunity: we support an integrated approach to your dog's health. Our bites for dogs contain vitamin c, lutein, carotene, and DHA to support eyes, skin, coat, and immune function.
For Canine Seniors: our dog vitamins for canine seniors are specially designed to support the preservation of dog's eyesight. It helps protect ocular tissues and alleviate cloudy vision in senior dogs.
Customer Support: your support and trust in us are highly appreciated. Feel free to contact us 24/7 if you have any questions or need any help with our vision support bites for dogs.

Everyone loves pets, and most people tend to select dogs as their pets and life companion. Clear Vision Complex Chews, an eye supplement for dogs, will make your pet have a healthy and active life.
Clear Vision Complex Chews are produced by a well-known company in pet care supplies, Kinpur Pet Care. These eye care supplements for dogs help your dog have a healthy vision and prevent any eye or vision problems.
Positive Effects of Clear Vision Complex Chews for Dogs
Why buy Clear Vision Chews for Dogs? Kinpur Pet Care has carefully designed this chewable supplement for dogs. Let's learn more about the effects of Clear Vision Complex Chews:
Intense Vision Support:
This supplement helps in maintaining the overall health of your dog. The vitamins and minerals included in this supplement are specially targeted for better eye health. Using this chew will promote better vision and help with any eye problems.
Eye Moisture:
This dog supplement aids the problem of dry eyes, which, if ignored, can lead to more significant issues with the vision. This dog eye support chew will maintain and restore the moisture and assist inadequate tear production for a better idea.
Skin And Immunity:
Besides giving eye care for dogs, this supplement also contains Vitamin C, lutein, carotene, and DHA to promote shiny and better coats. These added ingredients also support the immunity system and prevent seasonal illness.
Suitable For Every Breed:
Clear Vision Complex Chews are suitable for every breed. Whether you have a Chihuahua or a Labrador, this supplement is designed to be beneficial for every breed and age. The only thing to consider about giving these dog vision vitamins is to follow the dosage chart according to your dog's weight.
Excellent For Senior Dogs:
These chewable supplements are an excellent choice for senior dogs, as this supplement aids vision issues and alleviates cloudy and blurry vision in old dogs.
Ingredients Used In Clear Vision Complex Chews
All the ingredients used in Clear Vision Complex Chews are specially brought together to form a complex that promotes the dogs' overall health, besides treating eye and vision problems. These chews are a mixture of good ingredients that perform different actions in the dog's body. Some of the included components are:
Vitamin C: The regular use of Vitamin C builds the dog's immune system. It also aids in improving stamina and energy levels in dogs.
Lutein: Lutein is a vitamin that is obtained from plants. It works as an antioxidant in the body and helps in promoting eye and vision health.
DHA: DHA or docosahexaenoic acid is an omega-3 fatty acid that helps with natural brain development. Better brain development in puppies and dogs is associated with overall well-being throughout their lives.
All of the ingredients used in Clear Vision Complex Chews are naturally occurring and are the best option for natural eye supplements for dogs.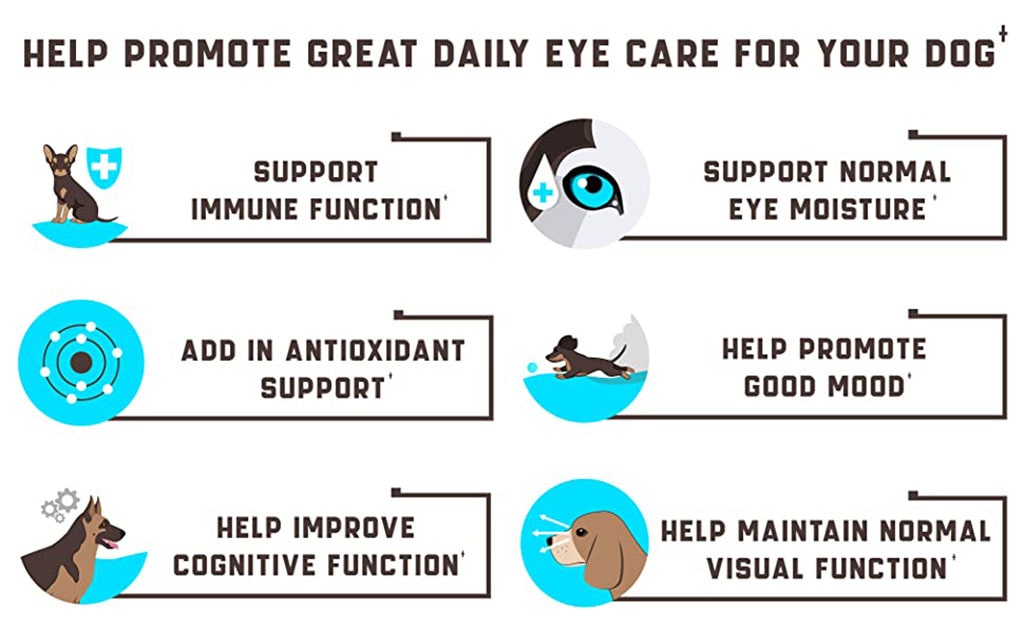 Product Of The United States
Kinpur Pet Care's Clear Vision Complex Chews are certified products made using natural materials. The product is safe from any harmful substance and is formulated in the United States.
Clear Vision Complex Chews comes in a pack of 180 chewable tablets. The unique duck flavour of the tablets is irresistible to dogs, and they always enjoy getting a dose of Clear Vision Complex Chews.