Probiotics for Sensitive Stomach
$29.87
Your Dog Needs Probiotics: Probiotics, which are vital for health, may dwindle ➞ your dog needs extra help to fulfill the body with necessary microoganisms by taking Probiotic Supplement for Dogs.

Effective Ingredients with 30 Billion CFU's: Pumpkin helps with dog diarrhea & constipation. Flaxseeds & Papaya help the digestive tract do its job & support a dog suffering from loose stools.

For Digestive Discomfort: Our Dogs Probiotics help with gas, diarrhea, indigestion, bloating, & constipation. Probiotic Treats digest easily, and help absorb and utilize more nutrients from diet.

Extra Benefits for Overall Health: Dog Probiotics help protect against illness & fortify health. Moreover, our Chews help with allergies, itching, scratching, and bad breath due to poor digestion.

With Love for Your Dog: Our 180 chews are soft & delicious – your dog will definitely love & easily munch them. Perfect for all Breeds, Sizes, Ages. We will help you with any questions & information.

---
Stomach microorganisms that decompose food pieces and assist processing can be found in a normal gut. Harmful bacteria can overpower the good organisms which could also be present in the dog's stomach lining if the gut gets unhealthy. This proportion of healthy and harmful bacteria can be restored and maintained with the use of a probiotic.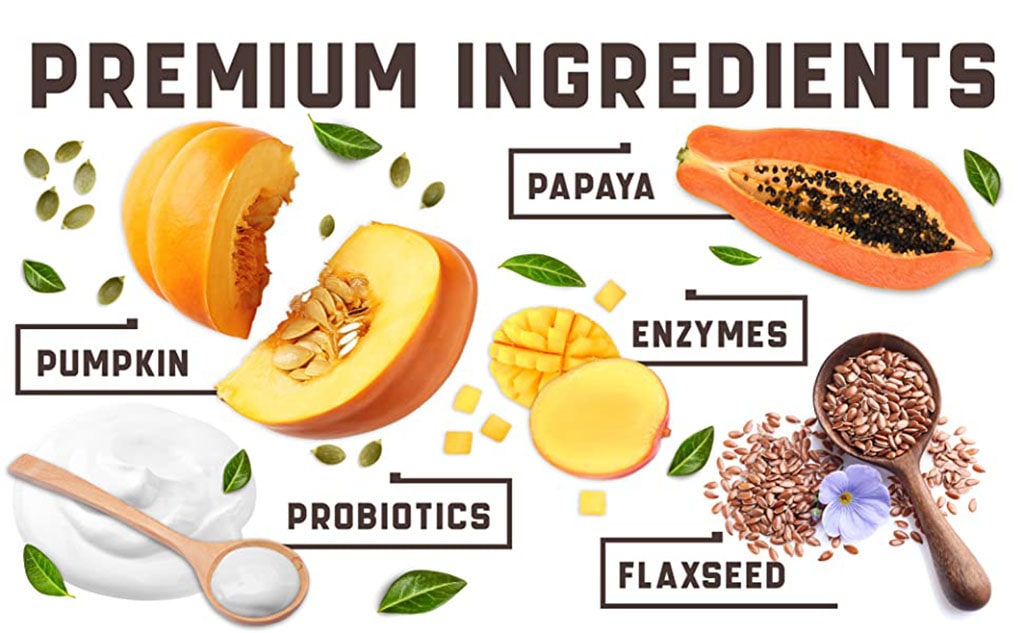 Pet probiotics for dogs may also offer them other advantages such as greater endurance and better skin. Probiotics for dogs are available in a variety of forms, with some also addressing other health issues such as joint stiffness and allergic reactions.
Positive effects of Probiotics for Sensitive Stomach
When you buy probiotics for dogs from us, you can be sure that the ingredients are of the highest quality. Here are just a few of the benefits of buying Probiotics for Sensitive Stomach by KinpurPetCare:
Improves the immune system
Many people believe that including probiotics in their dog's food regularly is a good idea since they help metabolism and the immune response.The digestive health care system of your dog improves by using the probiotics in their diet. Several veterinarians consider that live probiotic for dogs in their normal diet could be incredibly useful.
Helps to restore balance
Pet probiotics for dogs are usually taken to assist in reestablish intestinal equilibrium after indigestion, and especially after treatment of medicines that kill microorganisms without discrimination.To accelerate the readjustment of the gut bacteria some veterinarians recommend starting probiotics for sensitive stomach at the very same period as the antibiotic therapy, but providing them at separate hours of the day, and continuing these probiotics even if the treatment is completed.

Improves the gut health
Probiotics can help dogs with temporary or persistent digestive issues including gastroenteritis, diarrhea, or Inflammatory Bowel Disease, by balancing their microbiota and boosting digestive health for relieving their condition.

Reduces stress and anxiety
Pet probiotics for dogs additionally appear to reduce stress-related gastrointestinal issues in dogs who are suffering from stressful events such as going into barracks or changing homes.

Composition of Probiotics for Sensitive Stomach
Pumpkins
Pumpkin is a tasty and healthy ingredient of probiotics for stomach and gut health. When you check the dietary facts of including pumpkin in your dog's diet, you'll notice that it's comparatively low in fats and high in micronutrients.

Flaxseeds
It is among the greatest natural providers of omega-3 fatty acids. Flaxseeds can assist with diarrhea, improve the condition of their hair and skin, and support a strong immune response. Flaxseeds included in probiotics for dogs for diarrhea help your dog to stay fit and healthy.
Papaya
Giving your pet the proper quantity of papaya delights could have a lot of medical advantages. Papaya provides a variety of beneficial nutrients. Papaya included in this pet's food for sensitive stomach offers several nutritional advantages.
30 Billion CFU's
Because each dog seems to have distinct nutrition and eats varying quantities of food, judging them by their weight is unreasonable. For general health care, you must feed your dog at least 1 billion CFUs in every meal. For dogs with unique needs, more may be required for some time. Our pet probiotics for dogs contain 30 billion CFU's to support your pet's immune system.

Formulated in the USA
Probiotics for Sensitive Stomach is 100% formulated in the USA. We have been a registered company in the USA and we fulfill all the requirements and standards while manufacturing pet products.
Frequently Asked Questions
What do pet probiotics for dogs do?
Probiotics for a dog's upset stomach are important for your dog's digestive tract to stay fit. The gastrointestinal system helps the system process and retain nutrients while also acting as a defensive system.
The intestinal flora microbes help his food digestion, receive the minerals, and eliminate impurities. It also supports the defense against infections, ensuring that your dog enjoys a healthy lifestyle.

How do probiotics work?


Lactobacillus bacteria are found naturally in probiotics. It is indeed a great option to get some pet probiotics for dogs if the stomach seems to have an unequal quantity of bacteria and the toxic bacteria outnumber the normal bacteria.
What are the signs that your dog needs probiotics?
Pets can benefit from probiotics, regardless of whether they need them or not. If your dog is having gastrointestinal problems, such as frequent diarrhea or constipation, your veterinarian may prescribe a higher nutrient intake. Remember that providing your pet probiotics may not completely solve the problem.
What are the side effects of probiotics?
Veterinary probiotics for dogs are typically completely harmless if given in the proper dosage. However, because each dog is unique, some dogs may have a negative reaction to the product.