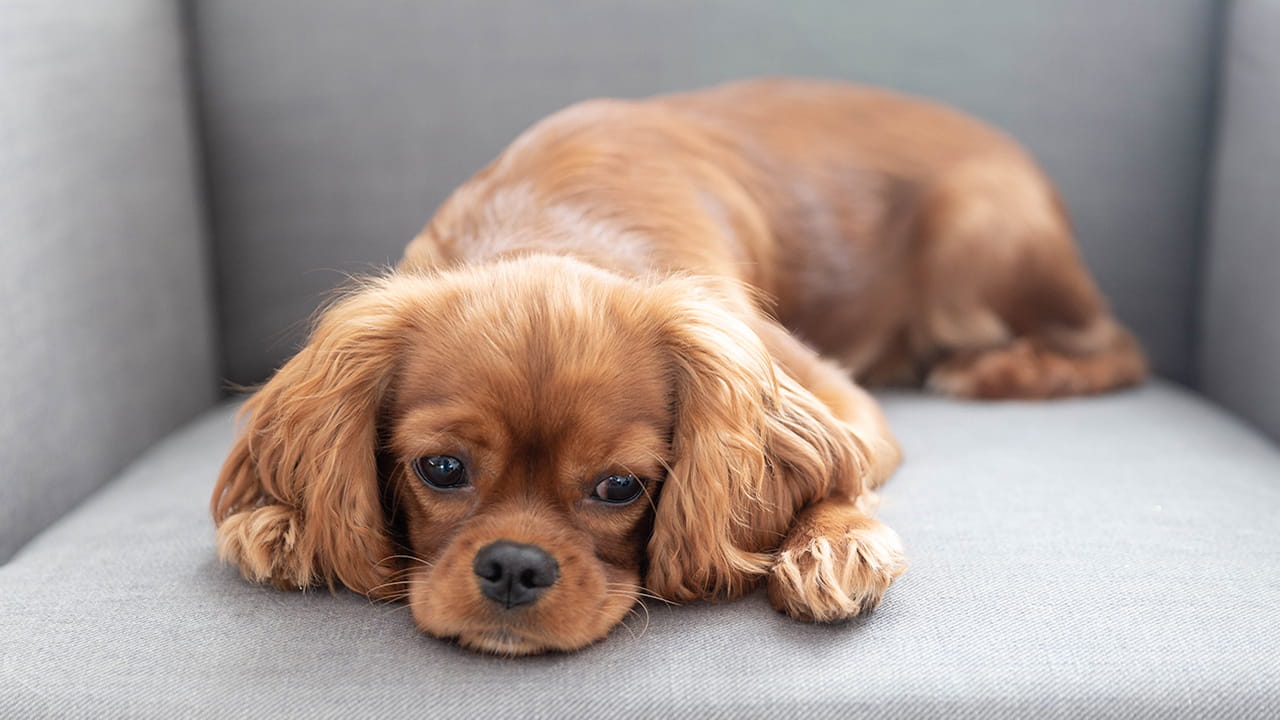 It's natural to experience a fluctuation in our emotions. After all, no two days are the same. Sometimes we barely notice it and other times, it is difficult to ignore. It's the same when it comes to our furry little friends. When you have known your pet long enough, you learn to notice all the subtle changes in their emotional state or even behavior. Missing the signs is easy to do, but dog anxiety is real and experienced every single day.
Did you know that most dogs suffer from a fear of abandonment? When left home alone, your poor pup may experience anxiety and even shaking, wondering when or if you'll return home! This is common behavior, but it is not a problem when you know how to help.
In my home, both of our puppies cower with tails and ears down every time there is a loud noise. Thunder is the WORST but also machinery outside or even if something drops inside the house. They act aggressive out of fear.
Don't even get me started on traveling with the pups. I thought most dogs were supposed to love riding in the car, head hanging out the window, happily drooling in the wind — but not our dogs. The poor babies would shiver the whole time — until we discovered the cure!
Anxiety can be a plague on your dog's life. When behavior changes, it does so noticeably. Aggressive behavior increases, they are moodier than usual, and even embarrassingly rude to your guests.
So what can you do about it?
Get the best calming treats for dogs!
You may be wondering what to look for when it comes to behavioral changes in your furry friend because, contrary to popular belief, not many symptoms are actually common. In fact, some may be easy to miss especially when you are busy. Here is a list of the more common symptoms:
Excessive panting or shaking – It may seem normal at first because that is not such odd behavior for dogs, but when it gets excessive, you may need to consult a veterinarian.
Aggression and barking – Even when it is not necessary, you might find your dog acting a little more intense than normal. That is their way of communicating and showing you that something is wrong.
Cowering or running away – You find them growing somewhat distant and almost bordering on depressed.
Whining more than the average hound – When the whining reaches a point you may find rather irritating.
The highest recommended form of treatment you can try are calming dog treats. Be sure not to buy just any treats though! Be certain your choice contains natural ingredients. I'll tell you what I have found, and what has worked the best for my fur babies.
Kinpur's Natural Calming treats for dogs. These are good for helping to reduce aggressive behavior, provide a great deal of relaxation and comfort, as well as support hips and joints.
Fantastic results can be seen in no time!
Here is how you can begin:
You get to serve 2 chews for dogs that weigh 25 LBS or less, 4 chews for dogs that weigh 26 – 75 LBS, and 6 chews for dogs that weigh 76 LBS and over.
You can begin by initially serving half the suggested serving then gradually increasing to the suggested daily amount. You may even choose to split between morning and evening.
You can rest assured that these chews are perfectly safe for your K9 companion, because they are made from natural ingredients such as chamomile extract, valerian root, hemp oil, and passionflower. These are well-known for their calming effects and ability to increase mental focus. Your dog becomes more relaxed, less vicious, and friendlier than you thought possible.
In fact, these calming treats work so well, they have an 83% effectiveness rate. If you find yourself worrying about some unusual changes in your furry pal's behavior, look no further, because Kinpur's calming treats have got your back! Give it a shot, and you will like what you find. 121 reviews can verify that!