Do you ever find yourself taking a stroll around your house, trying to enjoy the appeasing sight of your yard, only to find yellow patches in the grass?
Not just any kind of yellow patches but the "dog urine" variety?
Has the issue reached a point where you feel like you need a dog urine grass saver? Nobody likes to be told that they "missed a spot" — definitely not when you have maintained such lovely upkeep of your lawn otherwise.
The main reason that dog urine kills your grass is the high level of compounds in your dog's urine — mainly Nitrogen. This impact can be solidified even more by the extensive use of fertilizers on your lawn. The chemicals basically interact and grow so toxic, they end up killing the grass — resulting in a residual effect. These are the yellow patches you find on your lawn. Not an attractive sight, to be sure. If the damage is minor, however, it can be reversible. This way you can treat the problem before it has the chance to escalate. Before you implement any solutions, bear in mind that taking action on time could potentially save your grass in the long run. This means that as long as you allow your dog to pee on freshly fertilized grass, you will continue to have this issue.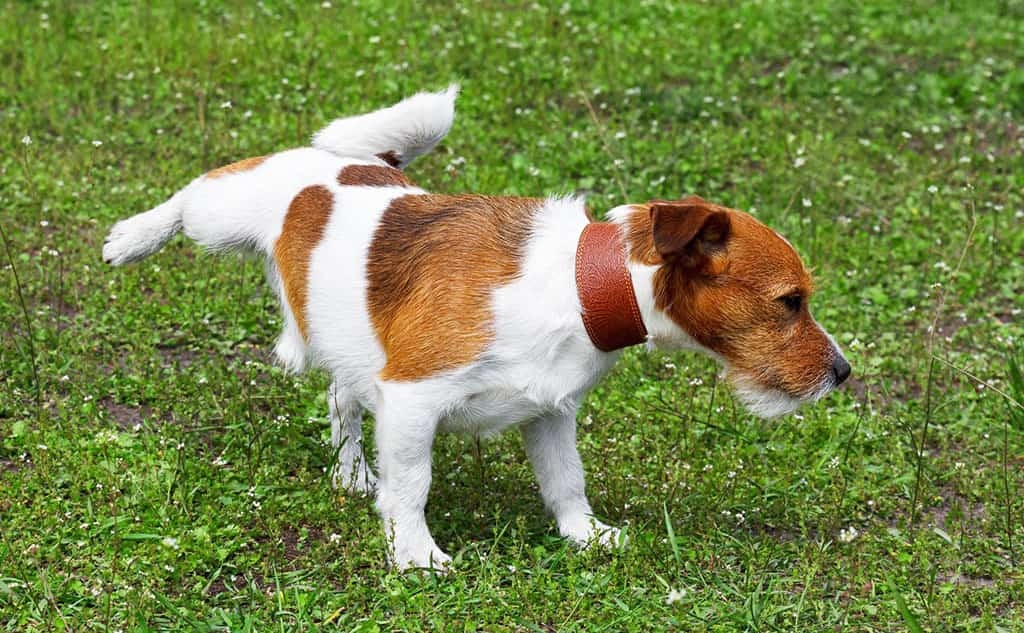 Don't lose hope just yet. We wouldn't be telling you all of this if we had no intention of sharing the perfect solution with you. Here are some guidelines on how to save your grass from dog urine stains:
You can keep dog pee from ruining your grass by feeding them Green Lawn Immune Treats. The best ones I've found are by Kinpur. These delicious treats are easily edible, dog-friendly, and good for the K9 immune system. It is the ultimate dog-pee-killing-grass solution and has proven very effective. The Green Lawn Immune Treats are great for your dog's digestion, improved immune function, keeping the intestines healthy, and best of all — reduces grass burn. It will make it easier to clean up your grass after your dog has left a liquid surprise on it.
You can also attempt a more effective method of watering the area where the dog urinated to reduce the chemicals in that particular section of your lawn so the urine can wash off immediately — that way the damage is sustainable and you can buy more time to treat your dog to some lawn saver biscuits.
Try by all means to avoid fertilizers — give your dog some pills that keep dog urine from killing grass. If they don't like the pills much, you can always try the top paw lawn saver biscuits. They are easy to chew, easy to digest, and the chances of your dog rejecting them are very slim.
If you must use fertilizer, you can try using a variety with reduced nitrogen. These may be more expensive and slightly less effective, but can help save the appearance of your lawn.
You can try installing a "special area" just for your pups to do their thing. Try laying some artificial turf, or spreading some mulch or gravel on one side or near the rear perimeter of your yard. With positive reinforcement, you should be able to get your pet to pee only in the designated zone.
Dilute, Dilute, Dilute! Always remember to constantly hydrate your dog to keep their urine clean. This reduces the Nitrogen compounds to a certain degree and improves your grass's tolerance to your dog's urine. Not only does this help your grass, but a well-hydrated dog is a healthier dog as well.
How do the Lawn Immune Treats work?
They contain some naturally strong probiotics that help support your dog's immune system, making food easily digestible. They also ideally boost your dog's bowel health which in turn leaves your lawn in a more pristine condition. The treats support your dog's intestinal health and balance the pH levels in their urine to reduce the urine's ability to create yellow spots too easily on your grass. You will ultimately find your lawn beautiful, clean, and much healthier than ever before! Not to mention, in addition to the health benefits, the treats come in delicious flavors that your dog will take delight in. It won't be the same as force-feeding your dog pills or having them get the needle; it makes for an extremely pleasant experience. All the ingredients are natural, exquisite, and healthy! How many products can you honestly say come with 'the whole package' – a sweet combination of bliss and health in one go? Your dog's health couldn't be in safer hands.
All-in-all, with all the benefits of Kinpur's Green Lawn Immune Treats, you don't just have a healthy and happy dog, you have a healthy lawn – two for one. Say bye-bye to harmful fertilizers and hello to healthy dog treats that are good for both your dog AND your grass. If the grass is greener, the dog owner is happier, and no one cares about your happiness as much as Kinpur. So why don't you make the commitment to the health of your dog AND your grass, and grab those treats with both hands right away!