Inflammation Hip & Joint Support
$23.95
Help Your Dog Live Actively: Dogs may suffer from hip & joint pain: due to age or because of diseases or injury in younger dogs. Help your dog ease pain & suffering ➞ spend more active time together.

Powerful Blend of Ingredients: Glucosamine supports activity & mobility, Chondroitin ➞ strength & elasticity of bones and joints.  Oil & MSM help reduce inflammation & support pain recovery.

Hip & Joint Health without Pain: Glucosamine for Dogs Hip and Joint Supplement helps to reduce discomfort & inflammation, ease symptoms, & soothe pain. Each our jar has 180 chews for long-lasting consuming experince.

For All Dogs: Our Hip & Joint Chews are ideal for all Breeds, Ages, & Sizes. We also know how hard it can be to make your dog eat a health supplement ➞ we developed soft, tasty, easy-to-use chews.

Manufacturer Service: We want to be in contact with our customers 24/7. For any information & help you can reach out to us. If you are not satisfied with the product – we will solve your problem.


---
We all want to be sure that our pets are safe and no doubt it is our top priority. Routine doctor visits at veterinarian clinics, staying up to date on vaccines, taking regular rabies control treatments, giving your dog's balanced diet, and ensuring plenty of sleep and activity are among the few things you can do to maintain the health of your pets.
Inflammation Hip & Joint Support Treats are perfect for dogs of all ages and sizes. This dog supplement supports dogs with joint and knee problems while also allowing them to remain healthy and feel good. All of the ingredients are 100% organic with no pesticides, additives, or inorganic flavoring. These ingredients have been seen to offer major health benefits.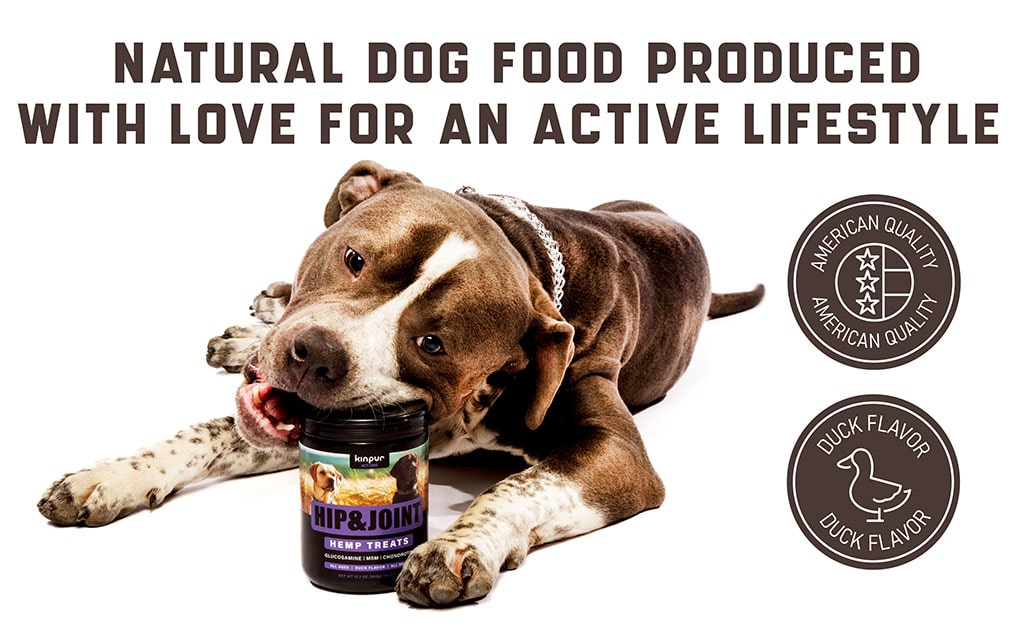 Benefits of Inflammation Hip & Joint Support Treats
Confused about buying Hip & Joint Support Chews for dogs? Here are just a few of the benefits of these supplements:
The dogs reduce their natural capacity to create healthier cartilage when they grow, even before they acquire inflammation, so hip and joint supplements can continue to strengthen a dog's deteriorating joints.
Can be used for dogs of all sizes, breeds, and ages. It is also suitable for mature dogs that can experience more bone and inflammation problems.
Inflammation Hip & Joint Support Treats has no additives and its quality is checked by an impartial third party for integrity and effectiveness.
There are soft and chewable dog joint supplements. The natural ingredients offer it a great taste by making it perfect for every dog.
Significantly reduces pain and suffering and also helps these dogs enjoy mobility and healthy life.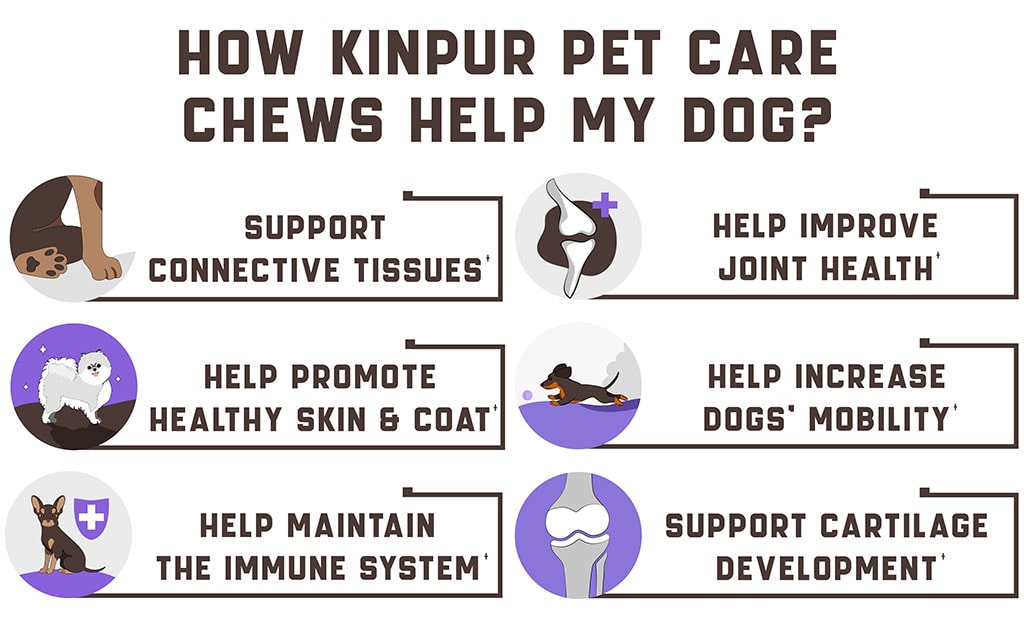 Composition and Ingredients
Inflammation Hip & Joint Support Treats is made from organic and natural ingredients with no flavors, additives, and artificial color. Our products are made under the supervision of highly experienced professionals and vet doctors and we follow all the health standards by not adding the GMOs in these products.
The following are the ingredients of Inflammation Hip & Joint Support Treats.
Glucosamine
This is most frequently included in dogs' supplements to treat joint dysplasia and other physical defects that involve inflammation and joint damage. Glucosamine in Inflammation Hip & Joint Support also helps in healing from joint injury.
Chondroitin
This helps to get sufficient pressure absorption and proper nutrition of the muscles that cover the bone by promoting the flexibility of the cartilage and fluid preservation.
Oil & MSM
MSM and oil are also included in our dog joint supplements for allowing the fluid to move through the tissues of your pet. It can inhibit pain signals sent by neurons in the body. It also enables the system to produce more cortisol that reduces inflammation.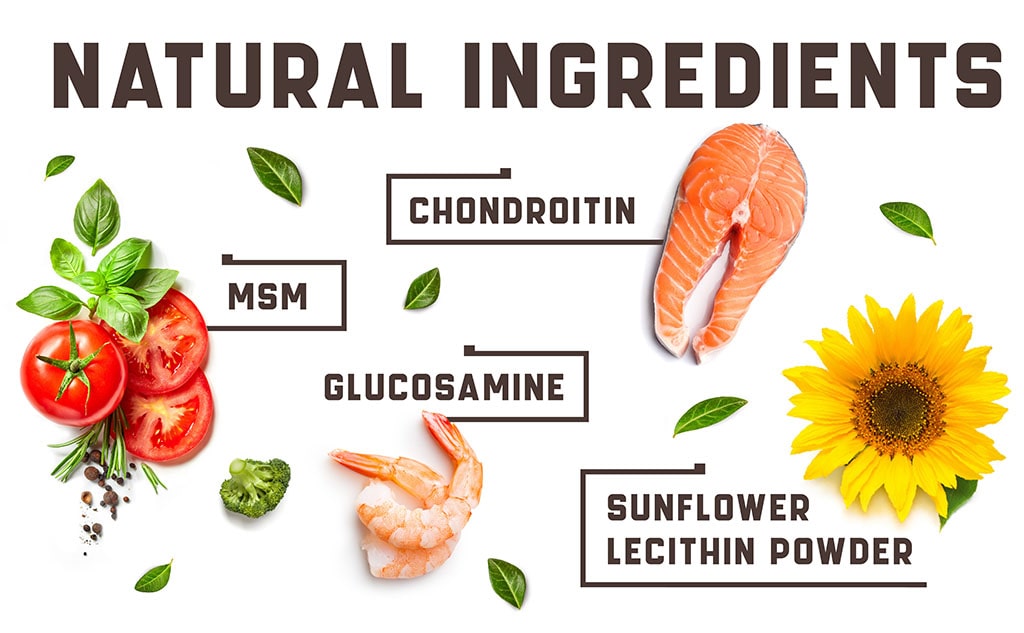 Formulated in the USA
This is a USA-sourced dog bone joint supplement that is made under the supervision of health experts. We are a certified company that has been following all the health standards to make health supplements for your pets.
Advantages of Packaging
Helps your pets to be more mobile and enjoy a healthy life.
Perfect for all dogs.
Ensures reduced joint swelling and inflammation.
Promotes the better hip and joint health.
100% organic and no GMOs.
Frequently Asked Questions
Are Inflammation Hip & Joint Support Treats safe for young puppies?
Yes, this chondroitin for dogs is perfect for every dog.
Do these products help with joint swelling and inflammation?
Yes, the supplements can reduce the inflammation and joint swelling in your dogs.
Are these supplements perfect for every dog?
Yes, these supplements can be used for any size, breed, and size.