Multivitamin Complex 15-in-1 Chews
$25.95
Well-Being Support: our dog multivitamin chews support daily overall health & immunity. Help maintain healthy digestion, gut flora, heart, brain function, coat strength, dog allergy relief.
Enriched Formula: this dog supplement is full of potetnt ingredients such as glucosamine, coq10, folic acid, multi-enzyme blend, biotin, vitamins a, c, e, d3, b complex.
Maximum Health Potency: our dog vitamins treats support healthy hips & joints, mobility, flexibility, skin & coat. Due to natural formula dog can utilize more nutrients for health maintenance.
Tasty Chews: these soft treats are easy-to-chew & use as they are soft and duck-flavored. Even picky eater will love them & eat with no pressure. Suitable for all breeds, ages, sizes.
Premium Quality: we've made our multivitamin for dogs chews from natural ingredients to support your dog's health every day. If you have any problems or need more info – contact us 24/7 for help.

We all love to provide the best food and a comfy environment to our pets. However, sometimes the food we provide is not nutritious enough. It is necessary to use vitamins and mineral supplements for dogs to cover up these deficiencies.
Now you must be thinking, what is the best multivitamin for dogs? To find the best canine vitamin supplements, we have a solution for you. The Kinpur Multivitamin Chews 15-in-1 is the best vet-recommended dog vitamin supplement.
This vitamin complex helps to prevent eye problems, heart problems, and dehydration in your dogs. It is the best product to maintain and boost up the immunity of your puppy.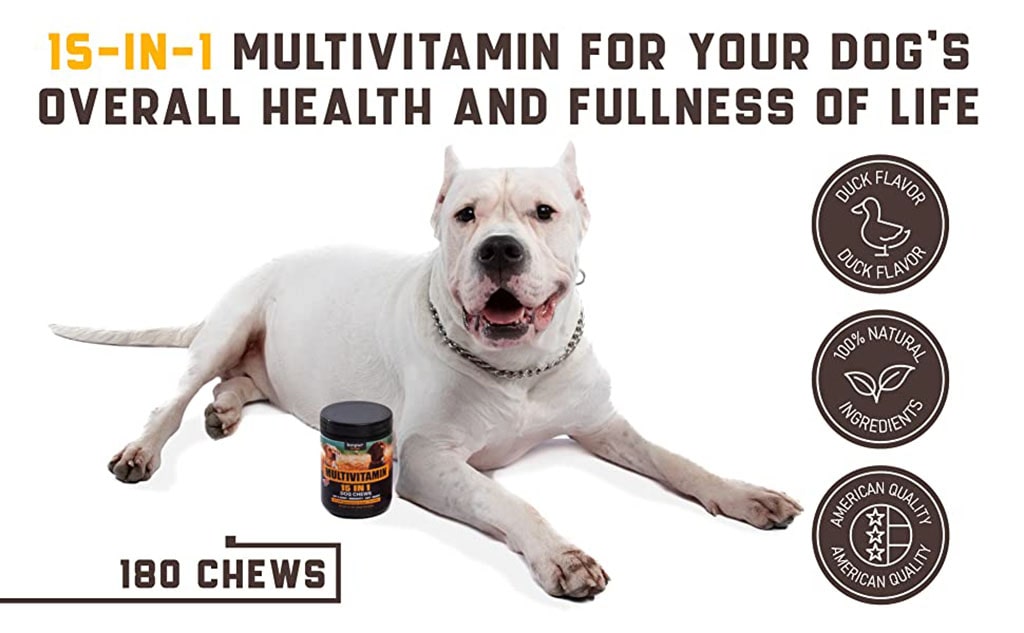 BENEFITS OF MULTIVITAMIN CHEWS 15-in-1:
Kinpur vitamin chews contain the best combination of ingredients rich in vitamin A and vitamin C. Some health benefits of these supplements are:
BOOST THE IMMUNE SYSTEM:
Puppies at a young age are prone to many diseases. For efficient production of body proteins, vitamins and minerals precursors are provided by these chewable supplements. These proteins boost immunity and protect the dog from infections.
HEALTHIR SKIN AND COAT:
These multivitamin chews are rich in vitamin E. This vitamin is essential for a shiny body coat and prevents aging. It keeps the hair fibers hydrated and your dog looking healthy and happy.
EYESIGHT IMPROVEMENT:
The Kinpur vitamin supplement contains Vitamin A, essential for good eye functioning. It is necessary for the development of the retina and corneal. It provides strength to the eye muscles and promotes healing.
BODY DEVELOPMENT:
Vitamins provide precursors for bone and muscle development. Vitamin A being fat-soluble enhances muscle differentiation. Vitamin D in this supplement promotes bone mineralization and strengthens the bones of your pets.
HEALING AND COGNITIVE IMPROVEMENTS:
Kinpur chews contain vitamin c that acts as antioxidants. Vitamin c helps in reducing inflammation in the body. Similarly, daily supplements of vitamin C improves cognitive abilities in dogs.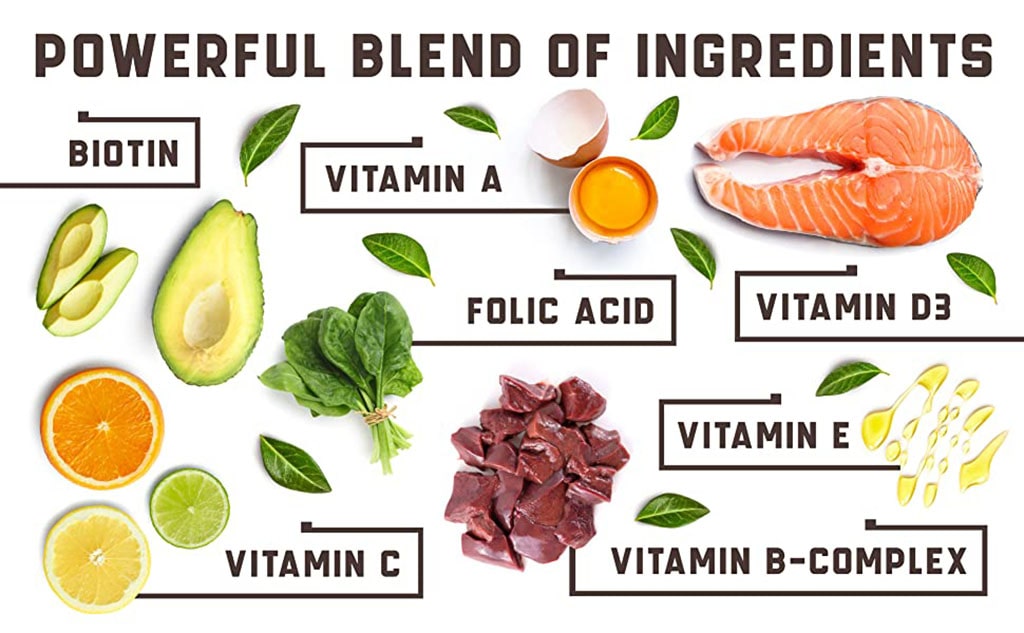 Kinpur Multivitamin Chews 15-in-1 Composition:
This multivitamin supplement is the best vet-recommended chews that provide all the nutrients required for the growth of your puppy.
It contains nutrients necessary to maintain good heart functioning. The vitamins increase signal transmission in neurons, promote the growth of healthy microflora in the dog's intestine and make them hearty.
Key components of this multivitamin supplement are vitamins A, C, E, D3, B complex. Vitamin A is crucial for cellular differentiation and lens development in the eyes. Vitamin C is a powerful antioxidant that prevents inflammation and cell death.
Vitamin E has a role in immunity-boosting and providing a shiny coat to your dog. Vitamin D3 is essential for bone mineralization and prevents rickets in young pups. Vitamin B complex acts as a coenzyme for carbohydrate utilization. It keeps your dog active and full of energy.
Other nutrients include glucosamine, coq10, folic acid, multi-enzyme blend, and biotin. Glucosamine is vital for the synthesis of collagen in the cartilage. It assists the growth of young ones.
CoQ10 is a supplement to maintain heart and neurological conditions in the canines. Folic acid is effective for RBC's synthesis and enhances the oxygen-carrying capacity of the blood. Biotin and other enzymes metabolize the food components and provide energy to the cells in the body.
All these nutrients are present in one supplement, Kinpur Multivitamin Chews 15-in-1. We extract all the ingredients from natural sources. There are no genetically modified organisms and food additives present in this product. These supplements are the best chewable treats you can give to your pets.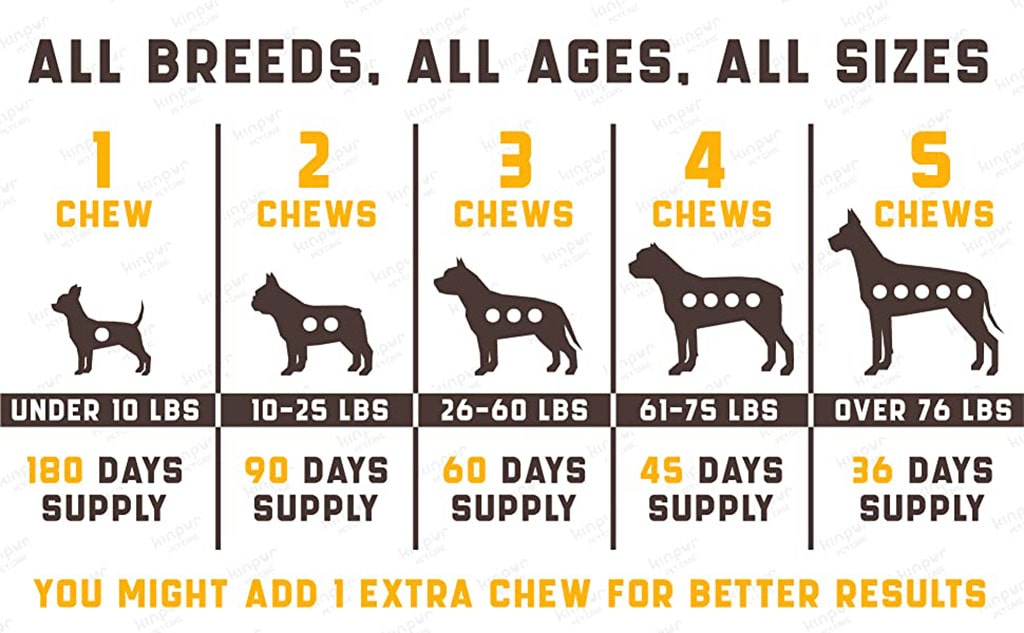 CERTIFICATIONS:
We manufacture this product in the USA, and food and drug regulatory authorities certify it. There are no food additives present in this product.
PACKAGING BENEFITS:
It has all the nutrition in one jar. The jar itself tells you about the amount you need to feed your dog. A jar contains 180 chews, filled with benefits, and packed with nutrition. This supplement is the key to health for your pets.